Bruma set to leave Sporting
Chelsea target Bruma has declared that he will not be renewing his contract with Sporting and is ready to move on.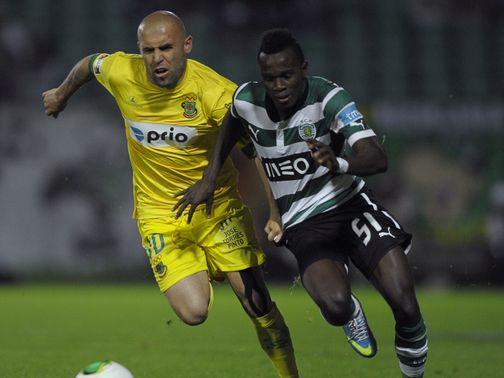 Related ContentFootball Transfer CentreThe latest football newsFollow us on TwitterFree £10 bet on football
The 18-year-old winger's signature is one of the most coveted in Europe after some wonderful performances for Portugal at the recent FIFA Under-20 World Cup.
A number of clubs have been credited with an interest in Bruma and Chelsea and Galatasaray are reported to have already submitted offers.
While it is understood that those bids were rejected, the situation has been further complicated by a dispute over the player's contract with Sporting.
Bruma's lawyer, Bebiano Gomes, says the deal expired at the end of last month, but the club have insisted there was a clause that triggered an automatic renewal.
Gomes told TVI: "Now Bruma heads totally out of Sporting. If the case goes through the courts, no problem."
Bruma admits the situation has been far from ideal but he is now looking to the future and is likely to have plenty of options to consider, with Porto understood to be back in the race for his signature.
Bruma has confirmed that he will terminate his contract with Sporting Lisbon. As we wrote yesterday, Chelsea and Galatasaray have made offers for him, which were rejected by the club, and they can now sign the player for nothing.
"I deeply regret the outcome of this matter. I did everything to stay at Sporting and I made it clear to my representatives to try to reach an agreement. But after all this time, Sporting did little for me to renew," he told A Bola.
"I want to avoid any sort of controversy with Sporting and especially with the fans. I am a professional and I will continue my career."
There has been uncertainty for some time over whether Bruma would stay at Sporting and his future was plunged into doubt earlier this week when his agent was quoted as claiming that there had been a kidnapping attempt on the player.