Bale fails to attend Spurs training
Real Madrid target Gareth Bale did not report to Tottenham's training ground on Tuesday morning, Press Association Sport understands.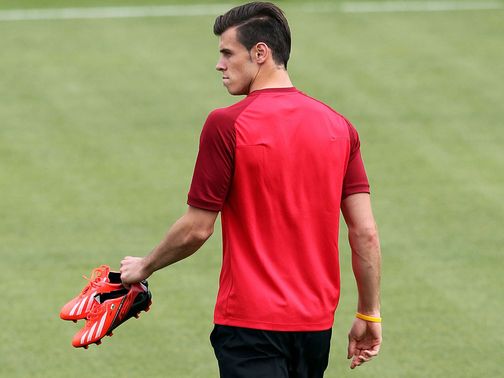 Related ContentFootball Transfer CentreThe latest football newsFollow us on TwitterFree £10 bet on football
Tottenham manager Andre Villas-Boas said on Sunday that he expected Bale to be back in London on Tuesday after giving the forward the weekend off.
Unlike the rest of his team-mates, the Welshman did not turn up for training at the club's training ground in Enfield on Tuesday morning, however.
Player ProfileGareth Bale11. Gareth Bale
Appearances0 (0)
Goals0
Assists0
Yellows0
Reds0*Current Season
Sources in Bale's camp played down suggestions that the player has become "furious and frustrated" with Tottenham's handling of his proposed world-record transfer to Real Madrid.
Yet it is clear that all three parties involved did not expect the saga to drag on for this long.
Real first indicated their interest in Bale two months ago, but, with less than a week left of the transfer window, the 24-year-old remains a Spurs player.
Real Madrid were so confident of signing Bale that they started selling replica shirts with his name on the back last week.
Real also erected a stage at the Bernabeu as part of a big plan by president Florentino Perez to unveil the player at the home of the nine-time European champions.
That unveiling was supposed to take place today, two days before Bale was scheduled to turn out for the Spanish giants in a friendly against Deportivo La Coruna.
But Real's actions have only served to delay the Welshman's transfer to the Spanish capital.
Press Association Sport understands Tottenham have become increasingly annoyed with Real's tactics this summer.
The two clubs forged a supposed partnership last summer following the sale of Luka Modric, but the Bale shirt sales and the construction of the stage inside the Bernabeu have annoyed Spurs chairman Daniel Levy greatly.
Although Bale has his heart set on a move to Real, it emerged on Monday that Tottenham are considering at least one more offer for the player.
It is also understood that Tottenham are unhappy with Real's intention to spread the world-record fee over six years.
Bale has reported to Tottenham's base for treatment on his foot injury throughout the transfer saga; this is the first time he has not done so.
Villas-Boas made it clear that he expected Bale to be back at the training ground following his weekend break in Marbella.
Speaking after Tottenham's 1-0 win over Swansea on Sunday, Villas-Boas said: "Tomorrow (Monday) is a day off. Tuesday is training so I would expect him to be there."
Bale is expected to miss the second leg of Tottenham's Europa League play-off against Dinamo Tbilisi on Thursday.
Manchester United have enquired about Bale's availability in the past, but manager David Moyes denied they had renewed their interest in the player.
Asked if United had made a bid, he said: "No."
But, having not yet made a major signing since taking over at United, Moyes cryptically mentioned that he was still on the lookout for new players.
He said: "I have just said Manchester United are always interested in the best players.
"The board and myself would always be looking to sign who we think are the best players, whoever they are."
Spurs icon Glenn Hoddle has claimed chairman Daniel Levy still harbours hopes of holding on to Bale, who scored 31 goals for club and country last season.
"I was at the Swansea game at the weekend and had a good chat with Daniel Levy," Hoddle told talkSPORT.
"He's ambitious and believes, if Bale was to stay, that Tottenham could go on and do something really strong in the Premier League."
Although the transfer window shuts on Monday night, Tottenham are understood to be in no rush to sell Bale and they insist they will only let him go if the squad is strong enough to cope without him.
They have already spent £60million this summer, but are also looking to add Roma's Erik Lamela to the squad and Steaua Bucharest centre-back Vlad Chiriches is expected to finalise his move to the north London club on Wednesday.
Hoddle, who played at Spurs for 12 years before later going on to manage the club, thinks Levy will want to bring in more players soon after missing out on Brazil international Willian, who chose Chelsea over Tottenham last week.
"It's difficult for Daniel Levy to stop a player joining Real Madrid," Hoddle added.
"When they come knocking, and the lad wants to go, it's difficult to say no.
"I get the feeling there's more business to be done though. Levy wants to strengthen the squad.
"They needed Willian but he's gone to Chelsea, and he must get someone who can unlock the door.
"I've never seen a Spurs side look so powerful physically but they need someone, dare I say it like Gareth Bale, who can change the game.
"Now, if they are preparing for life without Bale, then they definitely need to go into the market and buy a replacement who can open the door, but you can't pick that sort of player up easily."