Hodgson ready for 'cup final'
Roy Hodgson has cast off any notion of conservatism by insisting that England will go in for the kill in their crunch clash against Ukraine.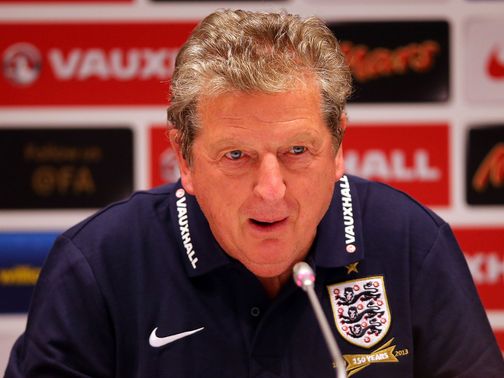 Related ContentFootball Transfer CentreThe latest football newsFollow us on TwitterFree £10 bet on football
Hodgson has been criticised - most recently by his own fans - for being too cautious in his approach to international management.
With Ukraine trailing England by just one point with three matches left, Hodgson had been expected to adopt a cautious approach to the game at the Olympic Stadium in Ukraine.
But it became clear on Monday night that the 66-year-old senses a very real opportunity to kill off any talk of the Three Lions not making the plane to Brazil this week.
His squad may be depleted by injury and Ukraine may be unbeaten in their last six matches, but Hodgson wants a victory to put his team three points clear with just two games left.
"These are two good teams who are in form and are capable of winning the group so it's a bit of a cup final and when you play in a cup final you don't necessarily win games by being cautious," the former Liverpool boss said, addressing a packed conference hall in the bowels of the Olympic Stadium where England were knocked out of Euro 2012 last summer.
"Sometimes you win it by going on to the front foot and trying to make certain you score more goals than the opposition so we are aware of those things.
"We don't have any qualms about what we have to do and the task in front of us.
"What we need to do is get a result and the players are confident that they can put on a good performance."
Hodgson did concede it would be "backs to the wall" if England lost, but that seemed to be just a flickering thought in the otherwise positive ideas that were rushing through his mind.
There was even a touch of Kevin Keegan about the current England boss as he questioned the comments of his opposite number Mykhaylo Fomenko.
Fomenko gave a very dull press conference before Hodgson took to the stage. The only interesting part of the coach's press conference was when he conceded the crunch game was the biggest of his career.
Hodgson took his opposite number to task, responding with: "I understand where he is coming from, but I have to say these emotional statements... I have been in football a long time and I have had a lot of games.
"If I had a little bit of money for every time I heard an opposition player say this is the game of my life I would be a very rich man, so it doesn't impress me enormously."
Unlike Fomenko, who spent his press conference straight-batting questions, Hodgson divulged almost every detail about his team selection.
Happy with his team's performance in their 4-0 defeat of Moldova, Hodgson conceded that he would only make one change to his starting XI because of Danny Welbeck's suspension.
The Manchester United forward scored two good goals against the Moldovans, but a harsh booking for dissent means he will miss Tuesday's game.
With unlikely hero Rickie Lambert and Theo Walcott both in form for the Three Lions, Hodgson is confident he has enough firepower available for Tuesday night.
"We have plenty of options, we are by no means limited," Hodgson said.