Wayne's World again for United
Nick Hext reflects on Manchester United's 4-2 victory over Bayer Leverkusen with Wayne Rooney on song again.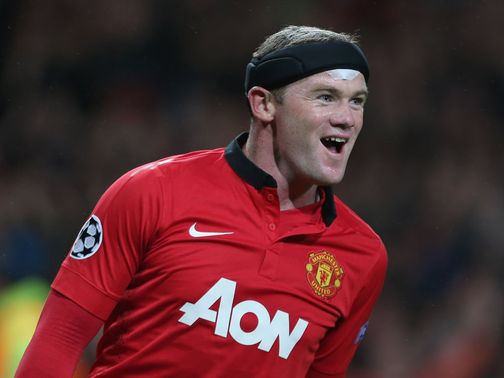 Related ContentFootball Transfer CentreThe latest football newsFollow us on TwitterFree £10 bet on football
All is forgiven.
Profiles Wayne Rooney Robin van Persie Marouane Fellaini Shinji Kagawa
Wayne Rooney scored twice and Manchester United won their Champions League opener 4-2 against Bayer Leverkusen so everything is right with the world.
That is one view to take but those within the Old Trafford hierarchy will need a little bit longer to forgive and forget after this summer's transfer saga.
It's fair to say it wasn't entirely smooth sailing for United in the off-season with Rooneygate taking months to fizzle out and Marouane Fellaini the only new arrival on a frustrating deadline day that saw deals for Leighton Baines, Ander Herrera and Fabio Coentrao slip by.
There was also the possible interest in a reunion with Cristiano Ronaldo coming to nothing as the forward extended his megabucks deal at the Bernabeu.
That has left Red Devils fans nervy in the aftermath of Sir Alex Ferguson abdicating his throne following Premier League title number 13.
David Moyes still has a long way to go to convince his doubters - plenty of whom will never take to him wearing the United crown - but it's been a solid start to his reign.
Tuesday night's goal-laden victory over Leverkusen contained more good than bad for Moyes' men with Rooney the number one tick on his list of positives.
"The England international has found his new headband to his liking and netting three times in his last two games has taken him to the thoroughly impressive landmark of 200 goals for United."
The fans were happy to chant Rooney's name as he was replaced by Javier Hernandez in the final stages of Tuesday's win and they are right to do so if basing their support purely on performances on the pitch.
If they are taking other factors into account it may have been wise to wait before falling in love again. It should be twice bitten in transfer sagas, thrice shy.
That isn't to take anything away from Rooney. The continuation of the 27-year-old's time at Old Trafford is clearly a good thing for United as there aren't many - if any - better players available to replace him.
Chelsea and Arsenal have both already shown in their limitations so far this term what a difference getting Rooney's signature would have made to their endeavours.
His partnership with Robin van Persie continues to evolve and the Dutchman remains - despite Rooney desire to get top billing - United's star man.
He's continually a goal threat and even when quiet - like for large portions of the win over Leverkusen - it's no surprise to see him get on the scoresheet with one moment of magic.
Hernandez and Danny Welbeck sit in reserve as well so it definitely won't be a lack of goals that costs United this season.
The midfield continues to have a question mark over it but at least Fellaini provides a more physical and dynamic presence to go alongside the ever-dependable Michael Carrick.
It wasn't a vintage display from the Belgian powerhouse on his Champions League debut for the club but his presence alone was enough to cause Leverkusen discomfort.
Man Utd
Man City v Man Utd
Man Utd v Liverpool
Man Utd v West Brom
Shak Donet v Man Utd
Sunderland v Man Utd
Man Utd v Southampto
Man Utd v Sociedad
Man Utd v Stoke City
Fulham v Man UtdMan Utd Fixtures
It must be a bit tougher for Shinji Kagawa to feel optimistic about his short-term future.
The Japan international is a very good player but it's not clear where he's going to fit within Moyes' line-up.
Being out on the left doesn't suit him and it was up to Antonio Valencia on the opposite flank to provide the vast majority of United's hustle and bustle on Tuesday.
It's tough to see Kagawa starting in the Manchester derby and he will have to get used to life on the fringes unless a more central role opens up thanks to the never-ending turn of circumstance.
That means we will have to wait to see the class displayed by the playmaker during his time at Borussia Dortmund.
The two goals conceded against Leverkusen will be a concern to Moyes but the response to being pegged back to 1-1 was impressively decisive in moving the game out of reach.
David De Gea is a lot more confident than he was at this time last year and it isn't even a question now whether he should be first-choice goalkeeper ahead of Anders Lindegaard.
The rise of the Spaniard has to be considered a major boost and vindication of the faith shown him by Ferguson at the start of the previous campaign.
The next big test for new chief Moyes comes as soon as Sunday and avoiding defeat against Manchester City is a must after the disappointment of the 1-0 loss at Liverpool just before the international break.
Rooney will start and playing his part in beating City would see his hero status further enhanced.
The United fans will love him tomorrow but for how long after that?