City value to see off champions
Ben Coley rates Man City good value in tonight's Champions League preview and gives his match-by-match score predictions.
[/SIZE][/B]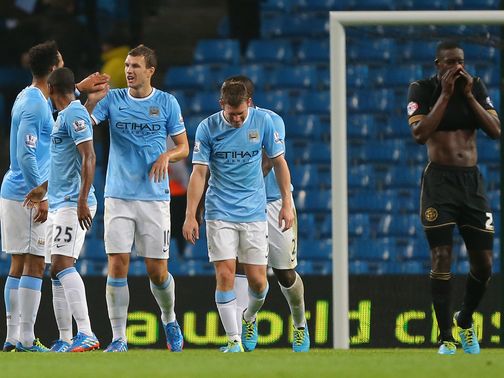 [B][SIZE=5]
Related ContentFootball Transfer CentreThe latest football newsFollow us on TwitterFree £10 bet on football
Wednesday night's Champions League prices are a bold, unwelcome sign of the times for the Premier League.
The division's last two title winners, Manchester United and Manchester City, are both priced up as underdogs despite one being at home and the other visiting a side currently six points adrift of the leaders in the Ukrainian top-flight.
In part this is a reflection of the weaknesses both have shown at times this season, weaknesses never more apparent than last Saturday when United were beaten fair and square by West Brom as City conspired to lose at Villa.
But it's also a mark of respect for City's guests Bayern Munich and United's hosts Shakhtar Donetsk, who secured a rare away success when beating Real Sociedad in the first round of fixtures to get off to a perfect start in a group they'll think they can win.
I really do fear for United. They were simply abject against West Brom, failing either to defend sensibly or attack cohesively, and while it was always going to be difficult for David Moyes it wasn't unreasonable to expect better.
In this sport more than most we must avoid overreaction, but I think it's simply fair and honest to conclude that this United side isn't one which will be challenging for top honours either domestically or in Europe.
That being said, perhaps their best display so far came in this competition against a Bayer Leverkusen side who've done well in the Bundesliga, and there will be those who take advantage of a rare opportunity to back United at upwards of 2/1 in a Champions League group tie.
I'm not one of them, but nor am I going to take 6/4 about Shakhtar and if there is a bet here, it's both teams to score at 7/10. United don't look like keeping a clean sheet but with Robin van Persie back in the starting line-up we can probably rely on them contributing to what should be an entertaining game.
Both teams may well score at the Etihad Stadium too, but at the prices I'm prepared to chance Manchester City beating reigning champions Bayern.
There is absolutely no denying that defending champions Bayern are the team to beat in Europe at the moment, having dominated the last two competitions and been unfortunate not to win both.
There can also be few qualms about their start to life under Pep Guardiola, a man who knows a thing or two about the Champions League. Bayern have won six and drawn one of seven Bundesliga games and their 3-0 victory over CSKA Moscow represented a gentle reintroduction to European competition.
However, if they've shown weakness it's been away from the Allianz Arena. At neutral grounds they've lost a German Super Cup to Dortmund and fortunately beaten Chelsea on penalties to win the UEFA Super Cup, while they've drawn at Freiburg in the league, a side with just three points from a possible 21.
All of this may count for nothing given that they can take to the pitch against City with a confidence built from their European successes and face opponents who've yet to find a way out of the group stage.
But the evidence so far is that while City have their fragility on the road, they're very comfortable at home. This is a side who've scored 15 and conceded one in four games at the Etihad this season, a record which includes a thoroughly dominant 4-1 victory against United.
It's also worth noting that Manuel Pellegrini has shown signs that, unlike Roberto Mancini, he has the ability to mould his side to fit the rigours of European competition.
Don't forget, he took Villarreal all the way to the semi-finals in 2005/06 Champions League, where they lost 1-0 on aggregate to Arsenal in a tie which saw Juan Riquelme miss a penalty.
And while Real Madrid were beaten in the last-16 under his leadership, it was to a Lyon side who went on to reach the semi-finals for the first time in their history.
Last year, Pellegrini took Malaga to the quarters, where they lost to eventual finalists Dortmund due to the concession of two goals in the last five minutes, but for which Malaga would surely have faced Madrid in the last four.
It's too early to conclude that he'll enjoy the same success with City, but I am willing to ignore their struggles in Europe under Mancini and judge Pellegrini on his own results, which so far consist solely of an impressive win against Plzen.
As far as Wednesday goes, Sergio Aguero is expected to be back so it should be close to a full-strength City side, and at 5/2 they're surely worth chancing given some excellent home performances and their manager's previous European success.