Ed Chamberlin: The joy of six
Sky Sports presenter Ed Chamberlin reflects on an intriguing battle at the top of the Premier League table and looks ahead to his favourite day of the flat racing season.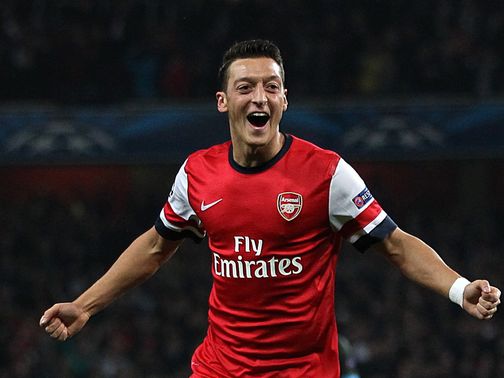 Related ContentPremier League newsRacecards and formFree £10 bet on football
Sky Bet's Premier League title odds: 23/10 Man City, 3/1 Chelsea, 4/1 Arsenal, 7/1 Man Utd, 9/1 Tottenham, 9/1 Liverpool, 80/1 bar
Quiz questions: 1. When was the last time six teams were single figure prices to win the Premier League title? 2. When was the last time Arsenal were as short as 4/1 to win the League? The answer to both is surely a long time ago. We have a wide open title race and a season that is getting more and more intriguing.
Premier League
1 Arsenal 15
2 Liverpool 13
3 Tottenham 13
4 Everton 12
5 Chelsea 11
6 Southampton 11
7 Man City 10
8 Hull City 10
9 A Villa 9
10 West Brom 8
11 Cardiff 8
12 Man Utd 7last updated 30/09 21:57
What a brilliant week of football it has been. First one of those crazy and unpredictable weekends in the Premier League and then three good results for English sides in the Champions League.
Arsenal were superb and their performance seemed to overshadow a stunning result for Chelsea at Steaua Bucharest. Manchester United showed great character to get a point at Shakhtar Donetsk. However, Bayern Munich dished out a massive reality check against Manchester City. The European Champions were on a different level and showed just how far teams have to go to catch up. No wonder Sky Bet have Bayern at a short price to become the first side to successfully defend their Champions League title.
Ed Chamberlin "Arsenal have got their swagger back. Ozil made the finish for the first goal against Napoli look ridiculously easy. His first half display was a footballing masterclass."
Ed Chamberlin
Arsenal have got their swagger back. They were scintillating in the first half against Napoli on Tuesday night, inspired by Mesut Ozil who Arsene Wenger described as "absolutely amazing". Ozil made the finish for the first goal look ridiculously easy and his first half display was a footballing masterclass. I'm really looking forward to seeing Ozil and co in action on Super Sunday at the Hawthorns.
If Arsenal win on Sunday they will break a club record of eight successive away league wins set between January and May 2002 when they went on to win the Premier League title. If Arsenal win their next two away games at West Brom and Crystal Palace they will equal the Premier League record held by Manchester United of 11 consecutive away wins.
While Ozil and Aaron Ramsey seem to get most of the headlines don't underestimate the contribution from Matthieu Flamini. His re-signing was ridiculed in places but Flamini has added much needed leadership, organisation and steel to Arsenal's midfield, which has allowed the flair players to thrive.
The midfield battle with Jacob and Mulumbu is going to be fascinating on Sunday. Those two were outstanding in that sensational West Brom display at Old Trafford last weekend. There's going to be a real feel good factor at both ends at the Hawthorns on Sunday and it should be a really good game.
Before that we have Norwich v Chelsea, two teams who have also had good weeks. You just sense Jose Mourinho's side, after digging out a few results, are starting to hit their stride. We start on Super Sunday at 12.30pm on Sky Sports 1.
Before that, on Friday morning I'll be at Wembley to interview Roy Hodgson ahead of the two decisive World Cup qualifiers against Montenegro and Poland. After all the injuries before the Ukraine game, I imagine he'll be watching this weekend's matches from behind the sofa.
Horse racing
I was pleased to dig put the Cambridgeshire winner, Educate, in last week's column and now I'd love to find the winner of the big race on my favourite race day of the flat season - Prix de l'Arc de Triomphe day at Longchamp. I had my stag do at this magical occasion in Paris, and returned for many years after that, for a race day unlike anything we serve up in this country.
Profiles Treve (FR) Orfevre (JPN) Garswood
Champions Day moving to Ascot is a vast improvement on the soulless affair at Newmarket but still has a long way to go to match Arc day. While Newmarket's Champions Day was quiet and bleak, Longchamp is packed to the rafters plus a sea of noise and colour, with Parisian fashion and style all around the racecourse. The French know how to put on a show.
The French v English rivalry helps as British punters flock across the Channel to add to the atmosphere but that's not going to be a feature of the Arc this year as Al Kazeem is our only representative and he looks to have little chance. Aidan O'Brien is having a real go and Leading Light looks his best hope. The St Leger winner is fast improving and not given the credit he deserves but I'd be surprised if he's good enough to win a race of this quality.
I said after the race last year that I'd be backing Orfevre if he made it to the 2013 renewal. He's made it and looks in superb form after a stunning performance in his trial last month. In last year's Arc he produced a remarkable effort from stall 18 and looked certain to win when he burst to the front. Christophe Soumillon had got there too soon, probably taken by surprise by how much ground Orfevre made up so quickly. He knows the horse much better now.
What just puts me off is that Orfevre is a short price and plenty of high profile horses running for a second time in the Arc have failed dismally. I'm also struggling to see where the pace in the race is going to come from. It's likely to be a scrum in the straight and to win you'll need a lot of luck and a serious turn of foot.
Treve has the latter, big time. Her change of gear in the Prix Vermeille was as impressive a burst of speed as I have seen in a long time. She was electric. I think the race will be run to suit Treve on Sunday and just hope she finds a gap.
This year's Arc has real depth and quality but I do think the top two in the market, Orfevre and Treve, stand out from the rest. I'm taking Treve's turn of foot to prove decisive.
Finally, good luck to Richard Fahey in Paris. Conditions look like being perfect for Garswood in the Foret and I hope he runs a big race.